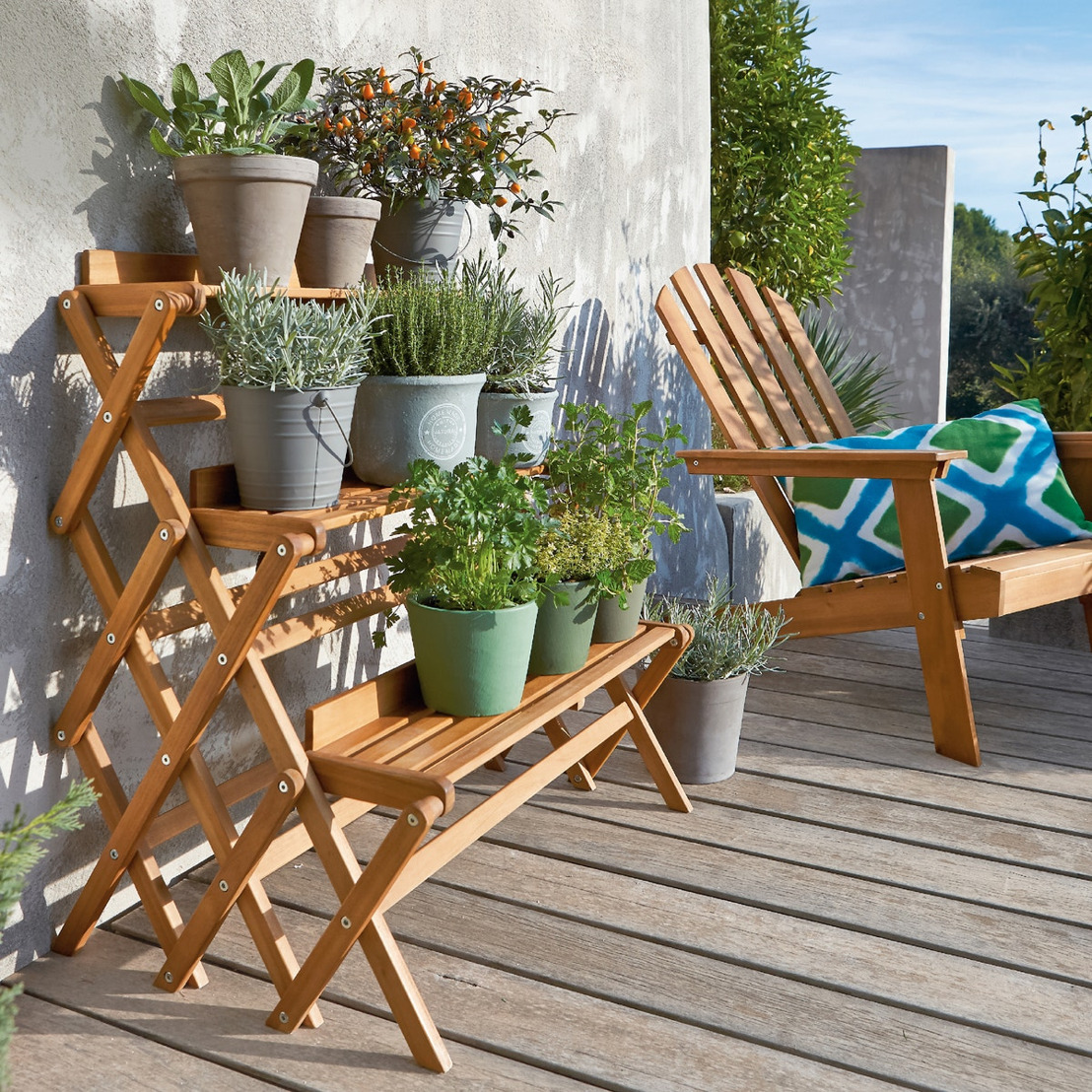 Balcony in Bloom
Small garden ideas for tiny outdoor spaces
Micro housing is an ongoing urban trend. We live in the city with a lot of luxury but we need to downsize in space to make ends meet. Smaller houses and apartments often means sober balconies and compact gardens. Learn how to transform what little space you have into an urban oasis with these beautiful items signed La Redoute and AMPM!
Ready to get that balcony or tiny garden Summer proof? A few general tips might have already crossed your mind: using up wall space, being creative with pallets, using rugs to cover the floor - very useful if your are renting a space -, buying plant baskets to put on your railing and so on. We have collected some extra insider tips to make decorating even more easy!
Level up
If you don't have a lot space on the ground for the balcony of your dreams, use ceilings to display your plants in hanging baskets or pots. Take them inside when the weather gets too cold!
Stack it - wooden plant display
Wooden plant displays are the solution to keeping all those pots and baskets in place. Play around with different levels and stack it!
Foldable it is
Foldable should be your go to word when ordering online for a balcony. Why not order some cool beach chairs to completely get you in that Summer mood?! Bad weather? Fold them and put them away in a heartbeat.
Mix Textures
Don't overthink it. To create contrast and visual vibrancy, don't fear using mixed textures. Your balcony is not a clean cookie cutter world.
Plant tray to the rescue
The plant tray has to be on of our favorite items for those Balconies in Bloom. Plant anything you like: fresh herbs, succulents, daisies, etc... How about some homegrown tomatoes?
Lack of space doesn't mean it shouldn't be stylish! Small balconies, big ideas...
---
---
Margo Van Raemdonck PR Manager